For people who are considered obese (BMI greater than or equal to 30) or those who are overweight (BMI of 25 to 29.9) and have two or more risk factors (such as high cholesterol or high blood pressure), the guidelines recommend weight loss. Even a small weight loss (just 10 percent of your current weight) will help to lower your risk of developing diseases associated with obesity.

We always recommend you consult your Doctor or Healthcare Professional before commencing a new weight loss program.
*Note: this is not as valuable for athletes.
1. Use the BMI calculation to determine your Body Mass Index:
| | |
| --- | --- |
| BMI Status | Recommendation |
| Below 18.5 | Underweight |
| 18.5 – 24.9 | Normal |
| 25.0 – 29.9 | Overweight |
| 30.0 and Above | Obese |

What is BMI calculation formula?
English: BMI = 703 x Weight in Pounds / (Height in Inches x Height in Inches)

Metric: BMI = Weight in Kilograms / (Height in Meters x Height in Meters)

Use your waist circumference:
Fat deposits around the waist (the apple shape) in excess of the guidelines are a risk factor for weight related diseases even when the BMI numbers are within acceptable ranges.

Using a cloth measuring tape, measure your waist around the point near your navel. Exhale normally while taking the measurement. A healthy waist circumference for women is no larger than 88 cm(35 inches) and for men it is no larger than 102 cm (40 inches).
Apart from the negative social and psychological impact of being overweight, what diseases are more likely to develop if I remain overweight?
These include:
■ Increased risk of heart attack, strokes and high blood pressure.
■ Tripling the risk of Type 2 diabetes.
■ Increased risk of hernias, varicose veins & arthritis.
■ Increased risk of complications during surgery or pregnancy.
■ Increased risk of breathing problems.

If your good nutritional and lifestyle habits can be maintained for 12 consecutive weeks, the chances are extremely good that your weight loss is permanent and that your maintenance program will be successful.

2. Use the Standard Weight & Height table to compare
your weight and height to your healthy zone.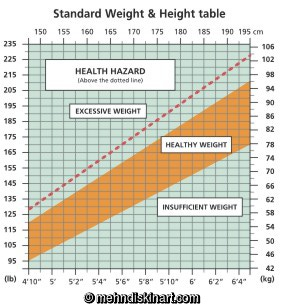 3. Use your waist circumference:

Fat deposits around the waist (the apple shape) in excess of the guidelines are a risk factor for weight related diseases even when the BMI numbers are within acceptable ranges.

Using a cloth measuring tape, measure your waist around the point near your navel. Exhale normally while taking the measurement. A healthy waist circumference for women is no larger than 88 cm(35 inches) and for men it is no larger than 102 cm (40 inches).

The statements have not been evaluated by the Food and Drug Administration.
This product is not meant to diagnose, treat, cure or prevent any disease.

©1999 - 2013 Mehndi Skin Art Distributor . All rights reserved.


Terms of Use | Privacy