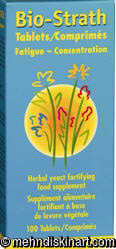 Indications

Combats fatigue (school fatigue, nervousness, spring fatigue), improves concentration, builds up resistance, increases physical and mental efficiency, promotes vitality, helps during convalescence.
Bio-Strath®
100 Tablets
Price $24.09
Composition

The Bio-Strath herbal yeast (Saccharomyces cerevisiae) contains, in addition to protein, fat and carbohydrates, 20 amino acids as building blocks for proteins, the nucleic acids RNA and DNA, 11 vitamins, enzymes and 19 minerals and trace elements and 11 other various vital substances.

The active principles from the herbs support and enhance the nutritional elements of the yeast, Saccharomyces cerevisiae. The herbs are angelica, balm, basil, chamomile, cinnamon, caraway, elder, fennel, horseradish, hyssop, lavender, licorice, peppermint, parsley, sage and thyme.


Bio-Strath Tablets are prepared in a base of cellulose and fruit pectin, they are convenient and easy-to-swallow.
Bio-Strath is 100% natural and free from preservatives, colorings or any artificially produced substances.


Dosage

Adults and children over 12: 2 tablets, 3 times per day before meals..
Children under 12: Give half the adult dose.