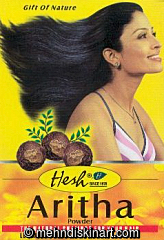 English Name: Aritha Powder (Reetha Powder)
Soapnut Powder
Botanical Name: Sapindus Trifolatus

"Hesh" Aritha Powder
The Natural Shampoo for your hair
Hesh Aritha Powder is a natural cleansing agent recommended by Ayurvedic experts. Hesh Aritha Powder has all the goodness of this natural marvel. When used on skin, the powder cleans the pores and helps the skin breath better. It also improves the texture of skin over a period of usage. As a shampoo, it cleans hair completely. It is specially recommended for washing oily hair. The powder has excellent foaming and shampooing properties. Aritha powder is also recommended for your laundry, washing silk, woolen clothes, silver and gold ornaments and utensils.

Hesh Aritha Powder has the following advantages:

- Cleans skin thoroughly
- Excellent as a natural shampoo
- Gives hair natural floss and bounce
- Can be used to clean ornaments, clothes and utensils.
Ingredients: Sapindus Trifolatus / Soap Nut Powder
MIXING YOUR PASTE

1: Place required amount of powder in a bowl then add water and mix well to create a thick paste.

2: Gently massage the paste into the hair and scalp rotating with your finger tips.

3: Wait for 2 to 5 minutes.

4: Wash thoroughly with water.

Caution:
Avoid contact with eyes and mouth.
Should contact occur rinse immediately with water.

100% VEGETARIAN
Ingredients: 100% Aritha
Ayurveda Licensed No: AYU/1221
(note: products not manufactured under Ayurveda license, may contain contaminants) Not tested on animals!