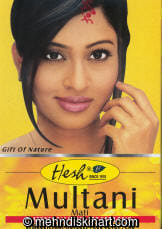 English Name: Multani Mati
(Fullers Earth / American Bole)

Hesh Fullers Earth / Mud is nature's most basic skin treatment therapy. Popularly known as Multani Mati, the product has been used for ages for cleansing the skin. Hesh Multani Mati has to be created into a paste, which can be applied on the face. The paste cleans grime and dirt from the skin pores and lets it breathe properly. It leaves the skin soft and smooth and oil free.



Hesh Multani Powder has the following advantages:

- Natural cleaning agent
- Makes skin smooth and soft
- Improves blood circulation and adds glow to the skin
- Used as a facial mask, because of its ability to absorb impurities

MIXING YOUR PASTE
1: Take required powder. Add water for oily skin, or add milk for dry skin to make a thin paste.

2: Apply to face and neck.

3: Keep it for 20 minutes or until it dries.

4: Wash with warm water and rinse with cold water.

Caution:
Avoid contact with eyes.
Should contact occur rinse immediately with water.
100% VEGETARIAN
Ingredients: 100%
Ayurveda Licensed No: AYU/1221
(note: products not manufactured under Ayurveda license, may contain contaminants) Not tested on animals!