Directory:

Home
Customer Support
PH :250-932-8473

Vogel Products
Also Try
THE 'DEVIL' OF THE KALAHARI
by Gerda Sorensen
In the 1960s the well-known Swiss naturopath Alfred Vogel traveled into southern Africa to meet the tribes people. With his natural curiosity and unassuming ways, they found him easy to relate to and were happy to teach him about the herbs they used to stay healthy or to treat illness.

One such herb is Devil's Claw (Harpagophytum procumbens) and Vogel was among the first Europeans to see the possibilities of this rare herb, which is found only in the sands of the Kalahari Desert.

Returning from South Africa, Alfred Vogel brought with him a quantity of the plant tubers so that he could himself research its beneficial properties. This resulted in the development of a tincture which he found of benefit in offsetting joint pain.

In recent years Devil's Claw has become known worldwide as an effective medicine. Each year millions of wild plants are utilized to fulfill this need, increasing the risk of over-exploitation which could threaten the very existence of this amazing remedy, and the livelihood of the people who harvest it.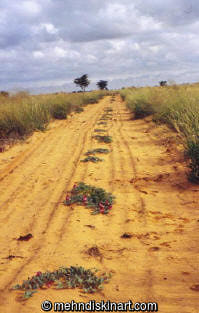 Cultivation with a Conscience

Aware of the potential difficulties that this growing popularity could cause and inspired by Alfred Vogel's philosophy of working in harmony with nature, herbal remedy manufacturer Bioforce has been involved for many years with scientists from the University of Münster in Germany and with native African experts to develop a unique, sustainable method of cultivating Devil's Claw – a herb which is notoriously difficult to cultivate.

Plants are grown from seed – and the Devil's Claw does not give up its seeds easily. The young primary tubers are planted in carefully prepared strips of land using an organic protocol both to ensure top quality plants and to minimize impact on the natural environment.

It takes four years for a plant to mature and only then does the local workforce hand harvest the long thin secondary storage tubers from deep in the dry savannah. The main tuber is then replanted and left to grow once more to maturity.

Having achieved considerable success with this joint venture the next step is to ensure that local native farmers have the opportunity to become involved in sustainable cultivation. However, as any crop grown from scratch takes fully four years to mature, it requires both careful planning and considerable financial support.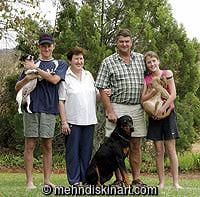 The Next Step
A local farmer, Louis Hauman, whose family has worked the land for generations, owns a 7000 hectare cattle farm, Soetvlakte, in the area. In a joint venture between Mr Hauman, the German Embassy in South Africa and Bioforce, he has donated 25 hectares which he has prepared for cultivation.

One of the reasons for Hauman's involvement is his interest in ensuring that South African land reform does not take the negative turn experienced in Zimbabwe. 'We have to make sure that we do not simply give land to the tribespeople; we must also help them to develop their skills to enable them to become successful farmers.'

The aim of the project is to enable a family from the local Tswana tribe to learn how to cultivate Devil's Claw successfully and to be financially secure while they wait the four years for their first harvest. They will also get a brand new house, fully equipped with kitchen utilities, furniture, running water and electricity, all farming tools and horses/donkeys to help with the heavy work and a higher than average monthly income for four years, along with advice from Louis Hauman on farming methods.

The scientific coordinator is Professor Dieter von Willert from the University of Münster – known locally as Mr Harpago. It was he who, working with Bioforce, successfully ran the initial Devil's Claw cultivation project on a neighbouring farm. Professor von Willert, who spends much of his time in Africa, will also lend his advice, experience and support directly to the native farmers.

One crucial aspect of the project is the availability of young tubers, which must be planted continuously. The seed has a very low germination rate and at present germination takes place both at Münster University and at Bioforce in Switzerland. However, a germination project is being established at a local native school, Kitlanyang, where the students are learning to produce the young tubers ready for planting.


The Family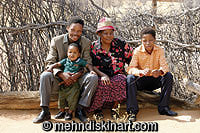 It goes without saying that the project family has been chosen very carefully. Six families applied and in September 2003 one was chosen. The criteria were dependability, stability, self motivation, technical knowledge and farming skills. Part of the ongoing work will be the continuous weeding of the cleared strips in which the Devil's Claw grows, as the strips offer good growing conditions for plants, such as wild cucumber, which must be kept in check.
The chosen family are George Mmuluki Hendricks and his partner Virginia Segametsi Ebuseng. George and Virginia have two sons; Stephans Teko (14) and Thabang (1) whom they refer to as their 'surprise package'! They also have help from a young man called Malkop whom they have more or less adopted.
George was born at Soetvlakte – he is half Tswana, half San – and grew up with Louis, learning to be a good farmer. He is a diligent worker and Louis is sorry to lose his services but knows that this is a great opportunity for George and his family.
The family has gone into the project with some trepidation but they have Louis' support and realize that it is a rare opportunity to work for themselves on their own land. They will have more time for the children and can look forward to saving money for retirement.
As to Mr Hauman's motives, 'Apart from the need for land reform I also take personal pleasure in knowing that somebody who has worked so hard for me now has a chance to create a life on his own. The farm will hopefully benefit from more eco-tourism and, if the project succeeds, it will provide work opportunities during the dry season. I also enjoy setting an example of commercial farming for the people in Kuruman.'
We hope to revisit Soetvlakte in years to come to learn of their progress. In the meantime we wish George and Virginia the best of luck with this exciting venture!
---
The statements have not been evaluated by the Food and Drug Administration.
This product is not meant to diagnose, treat, cure or prevent any disease.

©1999 - 2013 Mehndi Skin Art Distributor . All rights reserved.
Terms of Use | Privacy