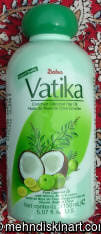 Dabur Vatika Coconut Hair Oil

Vatika provides natural nourishment to your hair. Giving it body and radiance, taking care of the critical balance of nutrients.

Vatika Hair Oil is a delicate mix of pure coconut oil with special hair care herbs including henna, amla and lemon. Blended together to strengthen each strand of hair from within, making you look really gorgeous. Vatika's unique natural formulation ensures deeper oil penetration to give your hair and scalp complete nourishment for problem free, healthy hair.
Henna: along with other herbs coats your hair protects it from oxidation maintaining its natural color.
Amla: strengthens the roots of your hair to help maintain their health and natural thickness.
Lemon: the astringent action of lemon controls sebum flow.

Dabur Hair Oils have natural herbs and ingredients that help maintain the health of your hair, right down to the roots. Regular application of hair oil helps prevent hair loss by nourishing the hair and stimulating hair growth. Clinical trials conducted with Dabur Vatika Hair Oil have proven its efficacy in preventing hair loss.

Apply oil and massage your scalp gently. For best results, leave the oil overnight and wash next morning. You can also apply a steaming towel for half an hour after the massage and get shiny, lustrous hair.

You should oil your hair at least twice a week. It is best to apply oil and leave it for a day before washing. Oil enriches your hair, protects it and the massaging stimulates better hair growth.


Dabur Vatika Coconut Oil
150 ml. / 5.07 oz
Price $5.95 ea.

KTC Coconut Oil - 100% Pure
100% pure coconut oil. Like Neem oil, coconut oil is a semi-solid fat at room temperature, to liquefy just place it in a bowl of hot water.

Coconut Oil is used extensively in Asian Gourmet Cooking like curry sauces, it can also used on skin and as hair oil for natural conditioning.

KTC Coconut Oil
250 ml. / 8.5oz
Price $7.75 ea.

It was Bruce Fife who popularized the health and medical uses of coconut oil. Now in Coconut Cures: How To Prevent And Treat Common Health Problems With Coconut, Fife goes beyond coconut oil to reveal and explore the health benefits of the entire coconut including the coconut's meat, milk, and water. Coconut Cures describes why coconut water can be used and useful as an IV solution for sick patients because it has a chemical composition similar to human plasma and therefore injected directly into the blood stream while be a rich source of vitamins and minerals.

Coconut meat can help balance blood sugar and control diabetes, protect against cancer, ease painful colitis and the discomforts of irritable bowel syndrome, help with weight loss, expel intestinal parasites, improve digestive function, aid in the elimination of hemorrhoids and varicose veins. More than a simple theoretical discussion of coconut benefits, Coconut Cures provides the reader with step-by-step instructions on how to use coconut to treat an A to Z list of many common health problems. Coconut Cures is a welcome and enthusiastically recommended addition to alternative health and medicine reference collections
and reading lists. Read more

If you like coconut, you will love this book. It's written for coconut lovers as well as for the growing number of health conscious individuals who recognize coconut as a marvelous health food.
Every recipe contains coconut in one form or another. Some recipes such as Coconut Battered Shrimp and Coconut Macaroons use shredded or flaked coconut. Others such as Chicken A La King and Strawberry Chiffon Pie use coconut milk or cream in place of dairy. The salad dressings and mayonnaise recipes are based on coconut milk and oil.

This book contains nearly 450 recipes with a mixture of both vegetarian and non vegetarian dishes to choose from. You will find recipes for creating savory main dishes, appetizing side dishes, satisfying snacks, and nutritious beverages. You will find recipes for dairy-free smoothies and blender drinks, creamy soups and hearty chowders, delicious curries, stews, and casseroles. If you like desserts, you will find plenty here to choose from, including German Chocolate Cake, Coconut Pecan Pie, and Chocolate Almond Ice Cream.

Concerned about sugar? No problem. Every sweet or dessert recipe includes a low sugar version. These recipes use very little sugar or none at all.

Coconut is ideal for low-carbohydrate diets because it contains very little effective (i.e., digestible) carbohydrate. It consists primarily of indigestible fiber and, therefore, is a healthy and tasty low-carbohydrate, high-fiber food. The milk, cream, and oil are also low in carbohydrate and give foods a rich creamy taste and texture that is both healthy and delicious. Read more