Puja Kit - "Buddhist Prayer Alter"
Jewelry from Nepal
25 Prayer Flags
Sandalwood Beads
Click Here


Mala Beads - Prayer Beads or "rosary" helps to center the mind away from
distracting thoughts during Meditation. As each bead is passed through the
fingers the practitioner recites his or her personal mantra.

The large shaped central bead (3 holed bead) represents Mount Meru,
also known as Mount Kailash. Situated in the Himalayas it is considered by
Tibetans to be "the navel of the world", and is a place of pilgrimage for
Buddhists and Hindus alike.

One should not pass one's fingers over the Meru bead
but turn the mala around and proceed back the other way.
Wholesale welcome.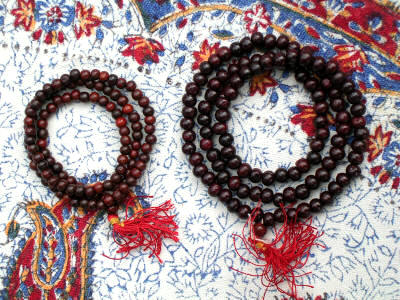 Red Sandalwood beads in sizes 6mm, 8mm (standard size)
each strand consists of 108 beads.

6mm Mala beads $16.00

8mm Mala beads $24.00


Single Red Sandalwood Beads: Sold by the Bead


| | |
| --- | --- |
| | 6mm Mala bead $0.16 |
| | 8mm Mala bead $0.19 |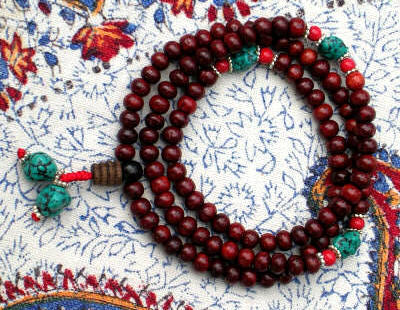 Red Sandalwood with Turquoise and Coral Markers
8mm (standard size) each Mala consists of 108 beads.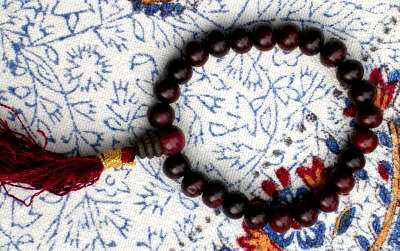 Red Sandalwood Wrist Mala 10mm Beads
each strand consists of 24 beads on a stretch cord.

Prayer Bead - Mala Bags made of Silk
with Mandela Print and draw sting.

Small Mala Bag
5" x 4"
Price $8.95



Large Mala Bag
6 1/2" x 6 1/2'
Price $12.95


* * * * *
Contact Us

Customer Support
PH :250-932-8473