Our products have a shelf life of approximately 2 years and should
be stored in a cool and dry location. No Freezing is required.

The Salon/Festival Kit can provide employment
for those who wish to have a seasonal or second income.
It can pay for itself with one weekend festival.
Article-Artist at Work


- Set up art classes for students wanting to learn the art of Mehndi,
or retail the products locally. Henna art is a fun and exciting field
to work in. If you like meeting people then this
inexpensive franchise is for you.

- Contact your local malls and rent a booth.

- These kits can be used as fund raisers for Boy Scouts,
Girl Guides, Church Groups, or Schools, to mention a few possibilities.

- This kit contains enough henna for 800 +/- medium sized tattoos.
Tattoo prices range from $10.00 for a small design
to $60.00 for both hands.

- We offer support and a free listing in our artist's
directory with full contact information,
including featuring your henna design photos.
http://www.mehndiskinart.com/artists1.htm

-We encourage the use of Natural Henna Products,
all products sold at Mehndi Skin Art are free of PPD.
Please read the FDA report on PPD.
http://www.cfsan.fda.gov/~dms/cos-tatt.html

---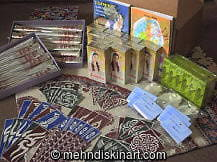 Salon Kit 1 Contents:

Retail Price: over $600
Your Price: $325.00

Air Mail Shipping Included

Note: can be tailored
to suite your needs.
24 Dulhan pre-mixed paste ( 2 oz. per tube )
6 Applicator bottles
6 Stainless steel tips 2 ea. sizes #5 #7 #9
2 Navneet design books ( your choice )
50 Stencils ( your choice )
1 Kilo/1000 grams of triple sifted,
Jamila Henna Powder (10 x 100 gram)
12 bottles of Mehndi Oil
Instructions


---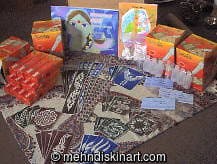 Salon Kit 2 Contents:

Retail Price: over $600
Your Price: $295.00

Air Mail Shipping Included

Note: can be tailored
to suite your needs.
48 Jani Kone pre-mixed paste ( 1.25 oz. per tube )
6 Applicator bottles
6 Stainless steel tips 2 ea. sizes #5 #7 #9
2 Navneet design books ( your choice )
50 Stencils ( your choice )
Instructions


---
Contents: 10 ea. Auburn, Mahogany, Red, 6 ea. Med Brown, Black, Chestnut, Light Brown, Dark Brown, Bright Red, Burgundy, Light Red and Neutral.
Light Mountain Natural - Additional Supply Min. Order
1 Dozen per Box - 48 Units, your choice of colors
$226.60 + Shipping FOB and Applicable Tax
---



Festival Equipment Suggestions:

Tent Canopy - A canopy 10' x 10' or 12' x 12' can be used at outdoor festivals
and fairs and may be purchased at stores like
Wal-Mart.
Type the keyword "canopy" for pricing.

Signage - Use a professional "A" frame sign and/or banner and flyers for henna parties.

Tables and chairs or pillows - create your own personalized environment.

Miscellaneous Items - Spray Bottle - Used for the lemon sugar
spray after henna application. See our recipe page for additional items.
Music box, business cards, flowers, and a camera for taking pictures of your art
work to place in a portfolio for future clients to view.
---

Contact Us

or Phone 250-932-8473 ( M to F 9-5 PST )


Home | Henna Products

Artist Gallery | Artists-Links
©1999 - 2013 Mehndi Skin Art Distributor . All rights reserved.
Terms of Use | Privacy